Sonatype's Partnership With Vista Equity Partners
In November 2019, leading global investment firm Vista Equity Partners (Vista) announced it had acquired Sonatype, a pioneer of software supply chain management for the enterprise.
Sonatype's CEO, Wayne Jackson, along with CTO and co-founder, Brian Fox, addressed the announcement in a company blog post. Jackson and Fox's message emphasized the value of the partnership, stating, "At Sonatype, our vision, strategy and execution have long been focused on helping software engineering teams scale DevOps by automatically harnessing all of the good that open source has to offer, while minimizing the inherent risks. Vista, perhaps more than anyone else in the world, understands our vision and appreciates the strategic importance of our mission. For this reason, they are the perfect organization for us to partner with as we continue to grow and scale."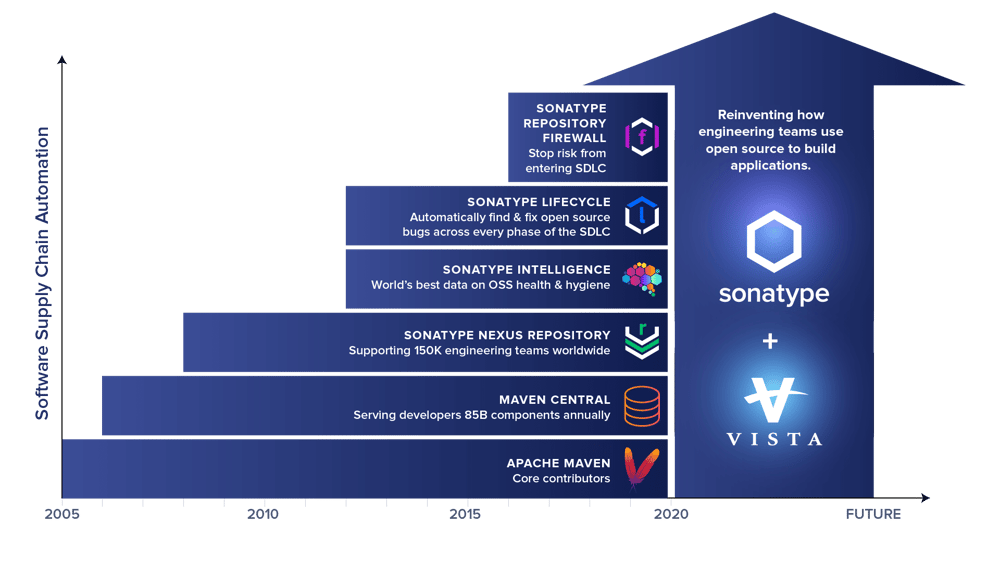 Vista views this partnership as an opportunity to support Sonatype's growth in DevOps systems used by software companies around the world. Patrick Severson, Senior Managing Director and Co-Head of Vista's Foundation Fund, said of the growth opportunities, "Open source tools are an invaluable resource that enable companies and developers to keep up with the demand to deliver software applications at a rapidly accelerating pace. Wayne (Jackson) and his team have built an impressive business and an innovative portfolio of products that empower software development teams to continuously innovate responsibly and with the highest quality and most secure open source across every stage of the digital supply chain. We are pleased to partner with Sonatype as they continue to grow their company in the large and rapidly expanding DevOps market."
Since the acquisition, Sonatype has been named by Forrester as a leading vendor in the software composition analysis (SCA) market, delivering value to customers across the world. CEO Wayne Jackson was also recognized as a Silver Winner in the Best in Biz Awards' Executive of the Year category in 2022.
About Vista Equity Partners
Founded in 2000 by investor and entrepreneur Robert F. Smith, Vista is focused on partnering with the world's leading enterprise software businesses to help them sustainably grow, scale and innovate in their markets. Vista's differentiated approach to investing prioritizes value creation through operational transformation in close partnership with founders, leaders and executive teams. Through private equity, permanent capital, credit and public equity investment strategies, the investment firm has delivered consistent results for over two decades.
Vista is dedicated to making positive changes in the communities in which its employees live and work. Through its philanthropic partnerships, Vista is committed to uplifting organizations that create opportunities for underserved communities and provide educational programs and internships for students from often underrepresented backgrounds. Its philanthropic reach can be seen through many of the organizations it works with, including Southern Communities Initiative, an organization dedicated to advancing racial equity in six Southern U.S. regions.
Connect with Vista on Facebook, LinkedIn, Twitter, YouTube and Instagram.