Empower innovation with secure open source
Your technology organization requires software that is secure from development through to production. Unite your DevOps and Security to innovate secure software with ease.
TRUSTED BY TECHNOLOGY INSTITUTIONS FOR 15+ YEARS



CONTINUOUS MONITORING
Bring
safe components

into production

Know the open source you're consuming in your tech. Monitor open source components throughout the entire CI/CD pipeline with real-time alerts when your attention is needed for something in production. Automated policy enforcement makes sure your dev team always uses the safest OSS code.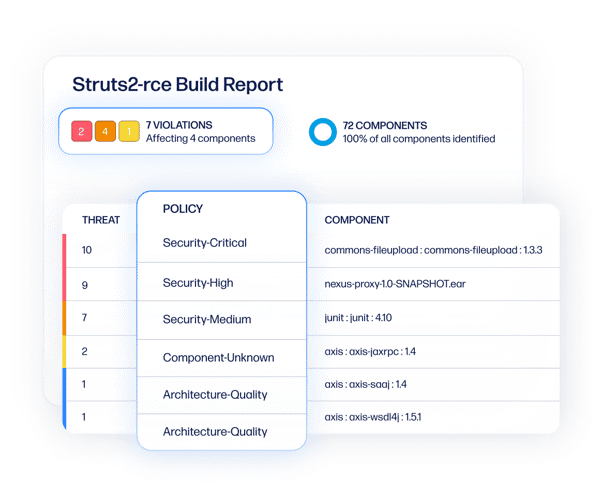 QUICK REMEDIATIONS
Control

vulnerability exposure

Know exactly where to go to remediate unsafe components quickly using a software bill of materials (SBOM). Identify malicious risks like Log4J or ransomware from a central dashboard, then remediate quickly with detailed intelligence and remediation guidance.
POLICY COMPLIANCE
Set it and
forget it
policy enforcement
Control the open source components that enter your tech with policy-based rules. Automatically quarantine suspicious components and release those found safe. Always deliver the most secure versions of components with automated policy enforcement.
BROKEN SILOS
Balance

productivity and security

Focus on building your technology, knowing the components you use meet the organization's security requirements. Get developers and security teams working together to deliver applications faster, more securely, and at scale. Use clean components from the start to prevent rework.
Run products anywhere
Flexible deployment options let you run anywhere—without the operational hurdles. Deploy easily with world class support from our Technical Support team at no additional cost.
"We evaluated Black Duck, Veracode, and Sonatype Lifecycle. My colleagues and I chose Sonatype Lifecycle because it is the best user interface for what we are trying to do: remove all critical findings before they reach production."