Partners > Technology Alliances >

Amazon AWS + Sonatype
Secure and automate your software supply chain.
PARTNER BENEFITS
6X
increase in software release velocity by automating security into the development process
>80%
reduction in vulnerability remediation time by using the world's most comprehensive vulnerability intelligence data
15M+
developers worldwide rely on technology trusted by the leader in Open Source Security (OSS)
Secure and
streamline

your software supply chain with Sonatype + AWS
Sonatype unites the security team and developers to accelerate digital innovation without sacrificing security or quality across the software supply chain. It is the only automated malware and vulnerability detection solution that will keep your repositories secure, remove security burdens from your developers, and reduce the time to market without disrupting your workflows. With a 742% increase in software supply chain and malware attacks over the last three years, you need a proactive approach to Open Source Security (OSS).
The Sonatype platform allows your organization to shift left and identify risks earlier than ever before in the development process.
"Sonatype is helping the entire IT organization of Delta to secure applications, allowing us to safely get dependencies from the internet. This minimizes public access, as Delta has implemented policy and security rules to get all dependencies, and store deployable artifacts with release versions. Additionally, Sonatype supports all popular software artifact types, which really helps Delta integrate Sonatype into the SDLC.""

SDLC Protection
Avoid costly supply chain attacks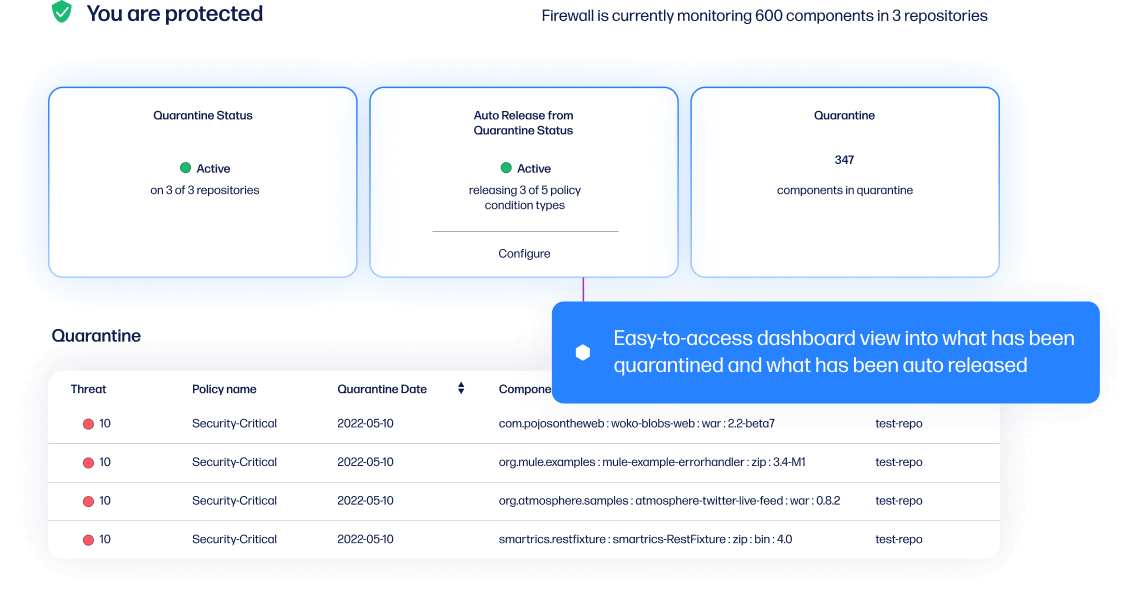 First Line of Defense
Avoid costly supply chain attacks with early identification and automatic blocking of known vulnerabilities, and detected malicious and suspicious packages from popular ecosystems.
Innovate Faster (keep developers happy)
Protect your organization from supply chain attacks with early identification and automatic blocking of known vulnerabilities, and detected malicious and suspicious packages from popular ecosystems. Sonatype uses behavioral intelligence to scan and quarantine suspicious and malicious packages before your development organization consumes them.
Decrease Time To Market (automation/scalability)
Eliminating the need for security re-work prevents costly issues in your SDLC before they happen and gets your applications out into the market faster.
Automated Management
Deliver quality code fast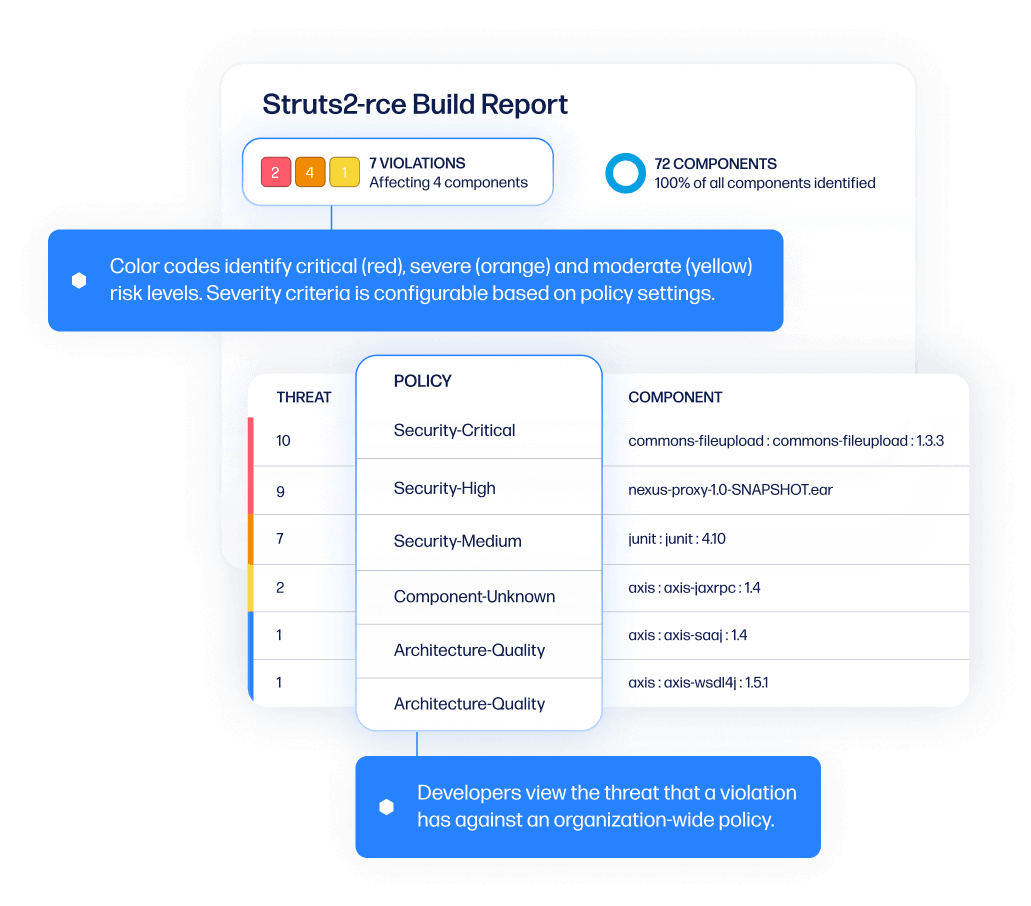 Secure your software supply chain
Develop fearlessly with automated remediation and intelligent guidance and avoid future technical debt through rigorous quality control with a platform that balances security with productivity.
Easily evaluate application security posture
In-platform data insights and reporting help you demonstrate risks managed and productivity gains to showcase improved security posture and ROI.
Manage risk with intelligence
Get timely visibility into new security threats with Sonatype's industry-leading data. Advanced AI/ML provide actionable, data-driven insights prioritized against your security policies, so no more false positives.
"Running Sonatype products on AWS enabled our organization to reduce its data center footprint. It takes less people to manage the operation of Sonatype in AWS than it did in our own data center. Changes to disk space, compute speed, memory, etc can all be modified much more quickly in AWS."

Take control

of open source risk across your SDLC and start developing software fearlessly.
Sonatype is available to purchase via the AWS Marketplace
The AWS marketplace streamlines billing mechanisms and procurement, allowing your organization to use your allocated AWS budget to use the Sonatype platform quickly.
Perform quality analysis, create run pipelines, and generate SBOMs in OpenShift.