The Solution: Embracing Sonatype Lifecycle to Automate Open Source Governance and Policy Management
As a software development team, Genome.One started to build products for their stakeholders at the beginning of 2017. The very first thing they wanted to set up was an artifact repository.
"To be honest, there's not that many options out there. We first looked at Artifactory. We just couldn't make it work for us. We found Sonatype to be most suitable for us. It was very easy to setup and use immediately." Java and NPM proxy were the 'low hanging fruit' when it came to binary management and publishing through Maven.
Genome.One runs a continuous integration pipeline loop, which has the Sonatype Platform as part of that integration. The developer team was not affected by implementation of the automated governance and policy management system. Fairly well established open source frameworks were being used. It was perceived more as a safety check. When other dependencies were added, there wasn't an issue of going back and checking licensing.
"Until we saw the demo from Sonatype Lifecycle, we didn't pay too much attention to vulnerabilities," says Groza. "It could have been a sign of not being mature enough as a team," he acknowledges. "When we saw a demo it shifted our perception of the use and needs from just license checking. That alone was because we no longer had to do it manually. But really, the primary usage became the vulnerability checking and writing policies around the vulnerabilities."
The Outcome:

Using Vulnerability Scans to Maintain Quality Open Source Consumption
Groza described a major benefit of using the Sonatype Platform. "There's a qualitative side to using Sonatype Lifecycle where I know I don't have to do that manual, painstaking exercise of running the license checks. Secondly, once we setup the vulnerability checks, we trusted it was just there, running in the background. The measurement can be seen as a 'lack of pain'."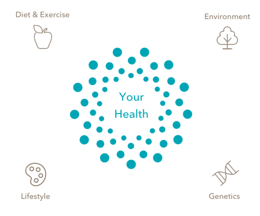 Genome.One is fortunate when it comes to getting buy-in from the rest of the company. They understand the value of saving time through alleviating the manual checks on a regular basis vs having something in place that does it much, much better.
"We have to keep in mind we are dealing with patient data and healthcare data. Security comes above everything. The fact that we can trace vulnerabilities and their dependencies with Sonatype Lifecycle alleviates this from our list of things do."
The Conclusion:

World-Class Support Facilitates Quick Integration to Provide Automated Validation and Software Risk assessment
When asked about working with the Sonatype team, Groza was unequivocal.
"We have a great interaction with the team. When we had some challenges in the beginning setting things up, Sonatype was able to work quickly and easily with our team. We wouldn't be having this discussion if things weren't working well!"
The next step for the team is to get approval for software as a medical device, which will make it much more challenging to do the validation of the outcomes of the software. That's where the Sonatype Platform will continue to provide automated validation and software risk assessment as part of the expanding Genome.One mission: Transforming Healthcare through Genomics.