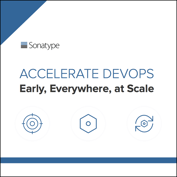 Software developers use open source and third party components to be more competitive and speed time to innovation. Because of this, open source usage is massive and it's growing. Sounds great, right?

Until you find 1 in 16 components being downloaded have known security vulnerabilities. See how you can use the Nexus platform to accelerate DevOps without sacrificing software quality.:
Leverage intelligence within existing developer workflows to vet components based on policy.
Integrate secure DevOps practices at every stage of the development pipeline.
Automate security in a DevOps pipeline with precise component intelligence.